About
International Debt Collection
Credit Limits International Ltd are the sole UK Shareholder of the TCM Group (est. 1987).
TCM Group are the largest global independent International Debt Collection Network in the world.
With 135 countries serviced and 8500 staff dedicated to cross-border debt recovery, our International Debt Collection Group is the undisputed market leader.
Small, medium and large exporting companies who use the TCM Group enjoy a professional relationship which delivers the appropriate solution for any non-payment situation, worldwide.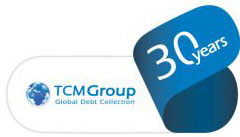 Our International Debt Collection Service
Our International Debt Collection Service is always offered on a "no collection no fee" basis.
TCM Group guarantee a strategic International Debt Collection approach taking into account the nature of the debt, your industry and your requirements. We deliver prompt action and accurate reporting, and are able to offer international tracing and asset location services where required, on-site visits to debtors when necessary and where possible, and cost-effective legal action in the appropriate jurisdiction.
We have over 30 years' experience in collecting international commercial and consumer debts. We understand the added complexities of collecting across jurisdictions and the cultural and logistical challenges of recovering outstanding accounts across borders, and our local presence caters for different languages, cultures, time zones, and currencies.
TCM Group are the partner you need to recover your money efficiently and ethically. Thanks to our local presence, our International Debt Collection Service takes into account local customs and is fully compliant with local legislation, regardless of where in the world you, your debtor, or your money is.
Although collection methods will vary from one country to the next, TCM Group Shareholders act in line with local Collection Laws and strictly follow the TCM Code of Compliance  which guarantees Global standards of quality services.
TCM Group operate in full compliance with the EU General Data Protection Regulation (GDPR) which came into force on 25 May 2018. TCM Group have taken their obligations very seriously and enhanced its processes and systems to keep personal data safe, worldwide.
When it comes to International Debt Collection, CLI (aka TCM UK) is the UK market leader.
Why Choose Us
30 Years experience delivering successful debt collection solutions to businesses
Case Studies
Supporting Your Business
Before we take on a new project, we make sure we understand our client's business and together, we build a cost-effective solution which will maximise recoveries whilst preserving customers' relationships.
Do you need help getting paid?
Get a Free Quotation
If you are looking for a free quotation, for a one-off overdue account, a small or large batch of accounts, or an ongoing solution to manage your cashflow, please fill out this form.
Are you looking to recover your debt?
Get a Free Quotation
If you are looking for a free quotation, fast and effective collection on an overdue account, or a durable solution to manage UK or international claims, please fill out our debt collection form.